Professional Lawn & Landscaping Services in El Paso, TX
We offer a variety of lawn and landscaping services including mowing, patio installation, irrigation repairs, and more!
El Paso, TX, is a large and bustling city with over 670,000 residents. The city is located in the western part of Texas right where New Mexico and Mexico meet. There's no shortage of things to do in this city including visiting the El Paso Zoo or the Museum of Art.
Here at Extreme Landscaping, we are proud to provide our lawn and landscaping services to homes, businesses, and HOAs in El Paso, TX, and the nearby areas. We offer various services like lawn mowing, patio installation, irrigation repairs, and more! Call us at (575) 652-3605 to schedule any of our services.
---
Keep your lawn happy and healthy with our lawn care and maintenance services.
We offer several lawn care and lawn maintenance services to keep your grass healthy and looking beautiful throughout the year. Our services include the following:
Lawn Disease Control: We can treat lawn diseases like brown patch with curative treatments.
Grub control: We offer preventative and curative treatments to keep grubs off your grass.
Aeration: Aeration will loosen compacted soil so resources reach the roots of your grass.
Overseeding: Overseeding will fill in bare spots on your lawn with new grass.
Lawn Mowing: We offer weekly and bi-weekly lawn mowing services to keep your grass manicured.
Trimming & Pruning: We will trim and prune your shrubs as needed to keep them neat and healthy.
Rock Installation: We can install rock ground coverings on your lawn and in your landscape beds.
Leaf Removal: We can remove leaves from your lawn via our leaf removal service.
Yard Cleanups: Our crew will get rid of weeds, blow out debris, refresh rocks, and mow grass as part of our yard cleanups.
---
Our Landscaping Services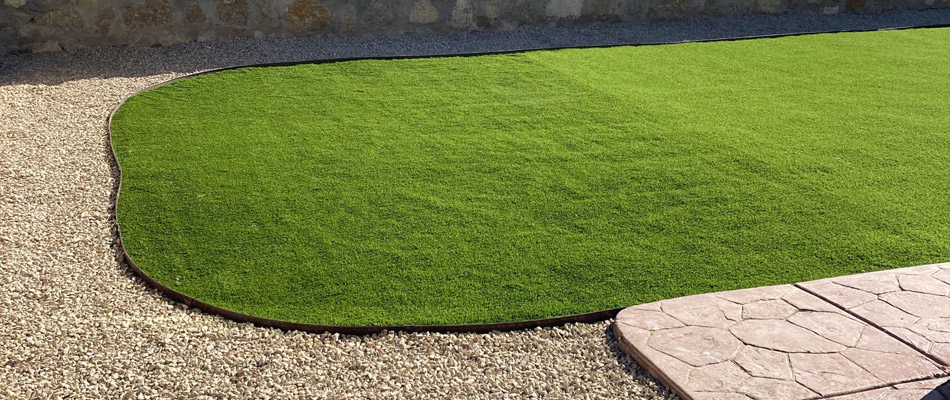 We can enhance your property's curb appeal with our various landscaping services. Our comprehensive landscaping services include the following:
Plantings & Softscapes: We can install new landscape beds on your property or remodel existing ones.
Artificial Turf: Our team can install artificial turf so you always have a lush green lawn.
Sod Installation: Our crews will lay down new sod to give you a new lawn almost instantly.
New Lawn Seeding: We can help you grow a new lawn from scratch with this service.
Shrub Fertilization: We will apply fertilization treatments to your shrubs so they grow healthy and strong.
Shrub Disease & Insect Control: Our pros will treat your shrubs for insects like aphids and diseases like powdery mildew.
Landscape Bed Weed Control: Our team will get weeds out of your landscape beds so your plants thrive.
---
Enhance Your Outdoor Living Space with Our Hardscape Installation Services
Bring your outdoor living space to the next level with our hardscape installation services! We can install various outdoor living features including:
Patios: We offer several different materials to create patios to enhance the appearance and usability of your property.
Seating Walls: Our seating walls provide additional seating for your outdoor living space.
Fire Pits & Fireplaces: We can create custom or kit-designed fire features to provide heat on chilly nights.
Landscape Lighting: We use low-voltage LED lights to brighten your outdoor living space at night.
---
Our Irrigation Services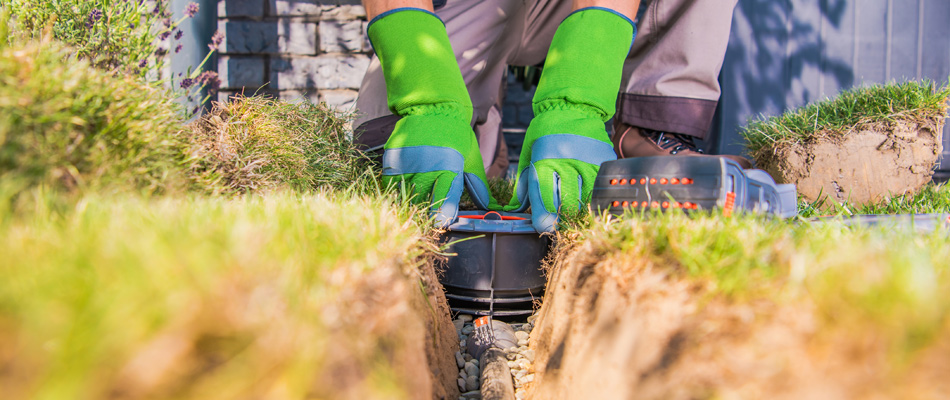 Whether you're looking to install a brand-new irrigation system or your current one needs some attention, we can help! Our irrigation services include:
Irrigation Installation: We can install sprinkler and drip irrigation systems with smart technology so you can water your grass and plants efficiently.
Irrigation Repairs: We can fix any part of your irrigation system.
Irrigation Winterization & Startup: We will prepare your irrigation system for the winter and get it up and running again in the spring with our winterization and startup package.
Our drainage and grading service will help redirect water off of your property.
---
Call us today to sign up for our lawn and landscaping services!
At Extreme Landscaping, our lawn and landscaping services are designed to enhance the health and appearance of your property. We're proud to provide our services to homes, businesses, and HOAs in El Paso, TX, and the surrounding cities. Call us at (575) 652-3605 to schedule our lawn and landscaping services today!