Professional Lawn & Landscaping Services in University Park, NM
Our team has been cultivating healthy lawns and maintaining beautiful landscapes since 2013!
University Park is a census-designated place located in Dona Ana County, NM. This community has a population of around 2,900 people and sits just east of the Rio Grande River. This area is located just a short drive away from El Paso, TX, as well as the Mexican border, so residents here can jump in the car to visit these places and then return home at the end of the day.
Here at Extreme Landscaping, our team proudly offers our professional lawn and landscaping services to property owners in University Park. We can help you keep your lawn healthy, improve the beauty of your landscape, add hardscaping features to your outdoor living space, and more. Give us a call at (575) 652-3605 to schedule any of our services.
---
We cultivate healthy lawns through our lawn care services.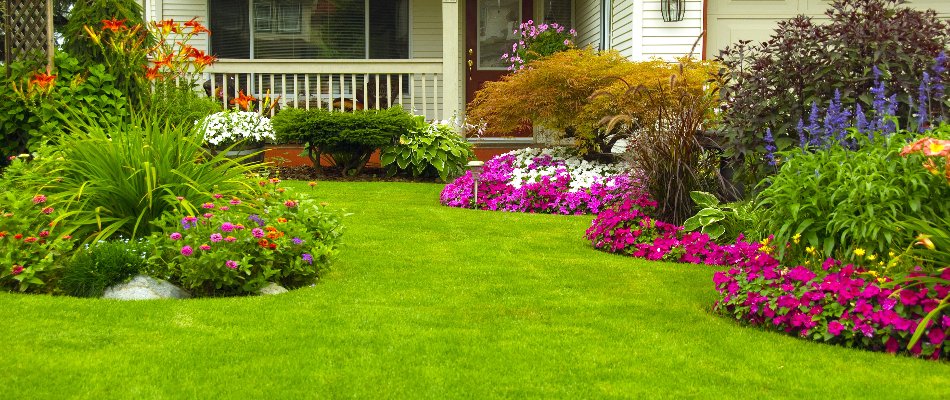 At Extreme Landscaping, we are committed to cultivating healthy lawns through the following lawn care services, which we offer to property owners in University Park, NM:
Lawn Fertilization: We will apply our fertilization treatments to your lawn several times throughout the year to give it a consistent supply of nutrients.
Weed Control: We use pre-emergent and post-emergent weed control treatments to keep your turf free of weeds.
Lawn Disease Control: We utilize powerful fungicides to eliminate fungal diseases like brown patch from your lawn.
Grub Control: Our preventative grub control treatment will protect your lawn from these root-munching insects. However, if you have an ongoing infestation, we can take care of it with our curative treatment.
Aeration: Our aeration service is designed to loosen compacted soil to make it easier for the roots of your grass to access the nutrients it needs to thrive.
Overseeding: We can overseed your lawn to increase its density and fill in any bare or patchy areas with new grass.
---
Our Lawn Maintenance & Landscaping Services
Maintaining the appearance of your lawn and landscape can be time-consuming. Fortunately, we offer the following lawn maintenance and landscaping services to help keep your property in University Park, NM, looking neat and tidy:
Landscape Bed Weed Control: This program involves getting rid of weeds growing in your landscape beds.
Shrub Care: Our crew can provide your shrubs with vital nutrients through fertilization treatments. We also monitor them for signs of disease or insect infestations so we can adequately treat them.
Lawn Mowing: We can mow your lawn regularly so that it always stays neat and manicured.
Yard Cleanups: If your yard looks messy and unkempt, then schedule our yard cleanup service to restore its manicured aesthetic.
Leaf Removal: We will remove leaves from your lawn via our leaf removal service.
Plantings & Softscapes: We can install landscape beds on your property or renovate your existing ones.
Trimming & Pruning: Our team will routinely trim and prune your plants to keep them healthy and looking their best.
Landscape Lighting: Bring your property to life at night by adding a landscape lighting system to it.
Artificial Turf: Add artificial turf to your property as a low-maintenance alternative to traditional grass.
Sod Installation: We can give you a new lawn almost instantly via our sod installation service.
New Lawn Seeding: We can seed your lawn to help you get a beautiful new lawn from scratch.
Rock Installation: We can add rocks to your landscape beds or across your entire property.
We can help you solve flooding issues on your property via our drainage and grading service.
---
Our Irrigation Services
An irrigation system is essential to keeping your grass and plants hydrated. We can help ensure your irrigation system is running smoothly with the following irrigation services:
Irrigation Installation: We can install an irrigation system on your property to provide hydration to your vegetation.
Irrigation Winterization: We will deactivate your irrigation system by blowing out the water in the pipes.
Irrigation Startups: Once the weather warms up, we will reactivate your irrigation system so it can continue providing your vegetation with much-needed hydration.
Irrigation Repairs: If your irrigation system breaks down, we have the tools and knowledge to fix it. Common issues we encounter include busted sprinkler heads, broken pumps, clogged lines, and faulty timers.
---
Our Design & Build Services
We offer a large selection of design and build services to property owners in University Park, NM, including:
Patios: Enhance your outdoor living space with a beautiful new patio.
Walkways: We can install walkways on your property to make it easier to navigate.
Driveways: Increase the curb appeal of your residential property by having us install a new driveway.
Outdoor Steps: We can install attractive, durable, outdoor steps on your property.
Fire Pits & Outdoor Fireplaces: Enjoy your outdoor space when the weather is chilly by adding a fire feature to it.
---
Call us today to sign up for our lawn and landscaping services!
Since 2013, our experts at Extreme Landscaping have provided top-notch lawn and landscaping services for residential and commercial properties, as well as HOAs, in University Park, NM. From nourishing your lawn and cultivating vibrant landscapes to maintaining your property's pristine aesthetics, we are the best choice for you. Give us a call today at (575) 652-3605 to sign up for our lawn and landscaping services!